2nd Highest mountain in mainland Spain, Veleta
This was our 2nd highest mountain in the Spain's Sierra Nevada that we did on 19th June 2008. You can see I was having to wear the Canny collar because I was a little too strong for mum and used to pull her over on the way down mountains, but now im a good boy most of the time and I very rarely use it.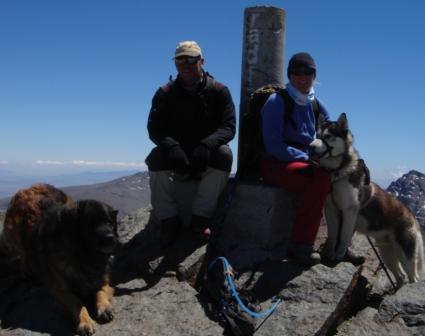 Khumbu & Bruno on the summit of Veleta
Yep on Monday we went up Veleta at 3394m high, a  5 hour round trip. Bruno and Khumbu made it aswell so they are knocking off the mountains well and truly. It was very cold on the way up as it was windy. We all had good fun especially on the way down as there was still plenty of snow for sliding down the mountain which of course the dogs loved. Again they spent the next day sleeping off their high adventures, they also took a dip in the swimming pool which is up and running now.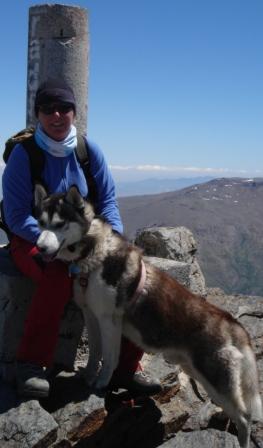 Khumbu & mum on the summit of Veleta